Pen not going well – bad ink ~ 2nd day of Cairo visit – bath house, pyramids, Sphinx, Nile Barrage – 'I rolled on the grass just so as not to lose the talent'
Dear Mack
Friday 11 May 1917
The query in point is – have I made this ink or haven't I made it? ie is it ink or isn't it? You can answer about as well as I can & say at any rate that it's a mighty poor job so far. Never mind it's going to improve tho it's still very rotten! Took 3 tries to make this – now let's try & see how she goes – I think it's all right.
You see that precious bit of paper is wasted but I'll send it to you now to show you the way the pen improved with bit of cleaning and scratching & trying. Before I forget it let me give you a verse of a 'hymn' often sung by the chaps round the fire while the billies are boiling – 'Old soldiers never die, never die, never die, Old soldiers never die, they merely fade away!' (sung to the tune of 'Kind words can never die'). Very pathetic isn't it? Many of the singers don't look exactly as if it's true about fading away.
The reason of all this ink, & outburst, is the fact of the arrival this morning of mail! I scored pretty well to – had 4 (out of 5 apparently) from home, no 4 which continued yours & first part of Lic's has not yet come to light – I guess by the rest that the contents are as above: also I heard from Uncle Arthur, Jeff Hartley, Vera Baker & Donie – pen is not yet going well – I wish I had not lost that indelible pencil. I read about ½ my lot before brek & the rest during the morning while I had time to enjoy & digest them. It helped to pass the time for quite a while. I hope those Registers will come too in a day or so – that Mother has sent. Papers & parcels (?) will come in a few days.
Those photos of Ruth, Lic, Val Drury & Mary Hartley came in good condition & are now packed in my art gallery which is getting just about full: but it seems to stretch every time. This last lot is not at all bad & I'm jolly pleased to have them – tell REK. Besides the people there I have the swing & almond tree behind & in another one part of the garden – roses, cosmos, snap dragons, orange tree, bit of the loquat tree & the gums across the road in the back yard. In that one I see Lic with Peggy – looking sleepy but evidently recovered from the holiday away which she took at Xmas: the other of Lic I said 'Good Day Lic' & Lic's just going to day 'Good Day'.
Wait till you see my latest – on a camel in front of the old Sphinx & Lance Neville near by also mounted on a camel. I don't know whether Lance has sent the 2 big ones & 5 PCs on home to you yet: he has sent me one out here. You may guess by our screwed up face that it was pretty warm & sunny – but that's nothing. It's not a bad picture of the 'old chap' behind – & the biggest pyramid.
You can perhaps see that we are a little distance up in front of the Sphinx – not right against it (see the young Gyppo roosting up in a nitch in his face – shows the size of the thing) & the pyramid is 3 or 400 yards away I guess. It is 470 feet high & some of the others are not so far behind it in size. I think I had better go head while on the job & tell you about the 2nd day in Cairo. I think I told you all about the first day in a previous letter.
I woke fairly early & got up before Lance & my 2 Tommy room mates & went down below to the bath rooms – paid 3 piastres extra & had a bonzar hot plunge bath: laid back in a bath full of warm water – in soak for about & didn't consider the time wasted! It was pretty K'right I tell you & I finished up with a cold shower. This was the first morning you know – Friday – & at the YMCA 'Anzac Hostel where we boarded for the 2 days.
Saturday morning continued
I got upstairs again from my bath & found all the rest at breakfast but we didn't seem to be in a hurry at all, strange to say. Lance & I got into a gharry & were driven about parts of the town which we had not seen & finished up at the Anglo Egyptian Bank where Lance had some money to get. After that we had some fruit for lunch & about 11am hired a motor car to be driven out to the Pyramids first & on to other places after.
The Mena Pyramids are about 10 miles out & the road is good all the way – with items of interest – places & people both – all along: we passed the house of Lord Kitchener – it looks very nice & good block of land about it laid out in well kept garden, lawn etc & a military guard on the gates. We passed the zoo – went through part of the gardens but hadn't time to stay there worse luck. People in plenty all along with their camels, donkeys etc loaded up & a good many cattle.
We stopped near 'Mena House' – a big sort of hotel I think & on getting out of the car were met by a yelling crowd of boys with donkeys – & guides who wanted to show us round. That was the start of our fun & I don't think I stopped laughing much till we left ½ hour or more later – except as you'll see by the sunny-screwed up expression to have my photo taken. I thought afterwards I was a chump not to have been laughing in that too. We 'imsheed' [refused] all the Gyps except a guide & a donkey boy each & mounted our steeds (!), first ride ever I've had on a donk I think.
It didn't take long to be jigged up round the hill to the big pyramid shown in our photo, with our guide telling us all about it all the way. Very rough big heavy blocks of stone cut in various sizes – some must be 4' x 4' x 6' and plenty of 4' cubes & some smaller I dare say at the top though they look big all the way. They are bit uneven so that it would be quite possible to crawl about the wall face. I dare say you've seen the photos – as I have – of our early troops here hanging on all over the wall of a pyramid.
From miles back you can see these great tombs – across level country – & they seem big all the time & close at hand: but you go on & on & it gets nearer & bigger all the way until its size is just about monstrous by the time you reach it. Seemed sort of strange & wonderful to be actually looking on these old things of history – but I'd turn away and look again & there they were all right. We were not sparing much time so didn't go inside tho I'd have liked to go into the big one. Lance didn't seem to want to stay. So after doing homage to the Sphinx & looking over the mosque or temple of the S close by & in ruins almost underground we remounted our donks & rode back to the motor.
All the time there were 'dinkum' fortune tellers, boys with stones, old coins, models of the sphinx & I don't know who not & what not, at us to buy – buy – buy! I would knock 'em down to next to nix (you can't possibly shake then off) & in the end bought nothing: couldn't be bothered getting a lot of stuff that I may never get home with me. I s'pose I told you that I bought a couple of stones in the temple of Mohammed Ali the previous day: these I have left in my kit bag with my stuff at Moascar & won't be much loss if I don't get the again.
Motored back to Cairo & bought some beef rolls & oranges for lunch which we ate while travelling out to the Barrage 20 miles out in the northern direction. The journey out was thro the outskirts of Cairo & on through villages here & there, gardens & cotton & barley fields on either side: no fences anywhere – they must be honest farmers in these eastern countries & only the gardens have high walls around them. One we passed looked a nice place – I believe it belonged before the war to some big Turk who was caught with concealed rifles & ammunition etc & is now having a rest in one of our military 'prisoners homes'.
The Barrage is a series of 5 or 6 bridges & locks which span & hold up the Nile – must be a mile or more longer: & at present there are separate streams flowing. I s'pose in high flood times they all join up in one wide river. There are arches overhead every 200 or 300 yards sort of gateways – with square towers – old fashioned & a bit narrow (which shows they are not of recent building). I've seen picture of them. But there are some tea rooms & bonny lawns & gardens both of which we sampled. I rolled on the lawn just so as not to lose the talent! Nice flowers too – roses, violets, carnations, geraniums & shrubs etc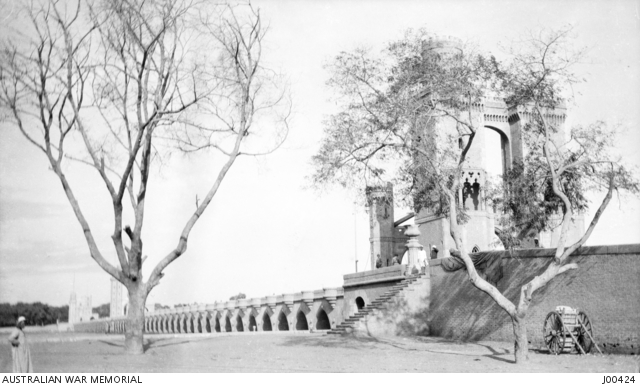 Access to ink and paper for letter writing was difficult for WW1 soldiers at the front. They often used pencil or made ink using ink powder as this was easier to transport to the front than liquid ink – see more here